Ukrainian painter.
Born in Kiev in 1965. From 1986 to 1989 he studied at the Kiev Art-Industrial College, and later - in a private school of Professor Milan Kubat Banic in Frankfurt am Main.
Paintings of Yuri Sovinsky displayed at art exhibitions since 1993.
The main genres are urban landscape and still life.
Many of the works purchased by collectors from the Ukraine and other countries.





Paintings for sale

To make a picture larger, click it



Sovinsky Y.D.. :: Khreschatyk metro. Summer's day ::
2010, 70х110, oil on canvas


1200$


Sovinsky Y.D.. :: Sophia Cathedral. Evening ::
2011, 80х120, oil on canvas


1200$



Paintings

To make a picture larger, click it

Sovinsky Y.D. :: Angle of Prorizna and Khreshchatyk ::
2010, 100х80, oil on canvas

Sovinsky Y.D. :: Autumn still life ::
2011, 70x90, oil on canvas
| | |
| --- | --- |
| Sovinsky Y.D. | Sovinsky Y.D. |
| | |
| --- | --- |
| Sovinsky Y.D. | Sovinsky Y.D. |
| | |
| --- | --- |
| Sovinsky Y.D. | Sovinsky Y.D. |
| | |
| --- | --- |
| Sovinsky Y.D. | Sovinsky Y.D. |
| | |
| --- | --- |
| Sovinsky Y.D. | Sovinsky Y.D. |
| | |
| --- | --- |
| Sovinsky Y.D. | Sovinsky Y.D. |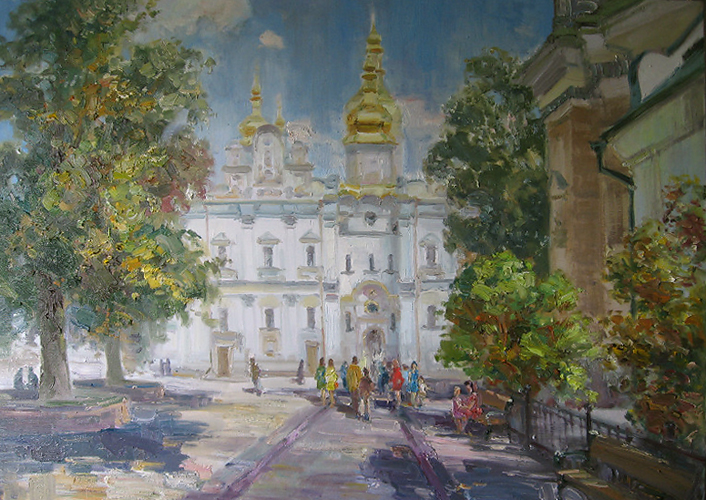 Sovinsky Y.D. :: Laurus. Cathedral of the Assumption ::
2010, 100х70, oil on canvas

Sovinsky Y.D. :: A monument of Bogdan Khmelnitsky ::
2010, 100х70, oil on canvas

Sovinsky Y.D. :: Fountains on Khreshchatyk ::
2011, 100х80, oil on canvas

Sovinsky Y.D. :: Square near the University ::
2010, 120х80, oil on canvas

Sovinsky Y.D. :: Dynamo Stadium ::
2011, 60x80, oil on canvas

Sovinsky Y.D. :: Khreschatyk. Winter day ::
2012, 40х50, oil on canvas

Sovinsky Y.D. :: Summer Khreschatyk ::
2012, 70х80, oil on canvas

Sovinsky Y.D. :: Fountains on Khreschatyk ::
2012, 45х60, oil on canvas

Sovinsky Y.D. :: Kiev. Maidan ::
2012, 50х70, oil on canvas

Sovinsky Y.D. :: Dnipro river. Autumn landscape ::
2011, 140x70, oil on canvas

Sovinsky Y.D. :: Sunflowers ::
2011, 100x60, oil on canvas

Sovinsky Y.D. :: Still life with Sunflowers ::
2011, 70x80, oil on canvas

Sovinsky Y.D. :: View of the Laura ::
2011, 110x70, oil on canvas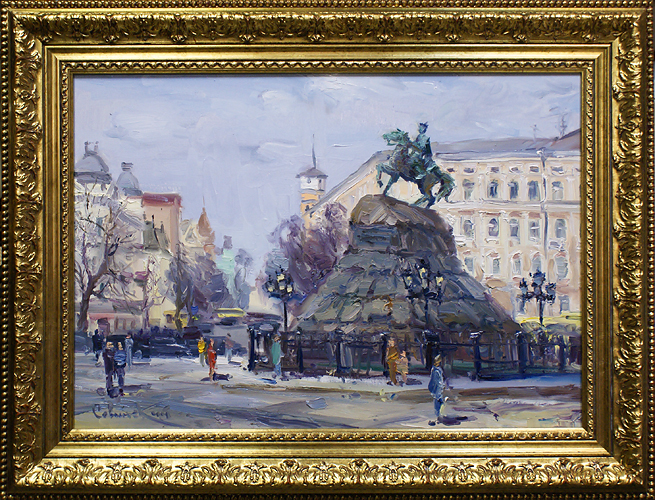 Sovinsky Y.D. :: The monument to Bogdan Khmelnitsky ::
2012, 50х70, oil on canvas