1983. - Graduated from National Art Academy .
1990. - Entered to the Union of Artists of Ukraine
1996. - Exhibition of works in the center of arts
"University Gallery", Kiev. Work from the exhibition were bought by president of Hungary Arpad Gents.
1997. - Participation in the international ART festival, Ukrainian House, Kiev.
1998. - 2001. participation in the Triennial of painting "Painting-98" and "Art-2001", Kiev.
Exhibition in the composition of the creative group "Golden Gate" Palace of Arts Ukrainian House, Kiev.
Exhibition of paintings of the 9th International Festival of Arts "Slavonic Bazaar".
Personal exhibitions: "Horlbeck", "Eugen Barthelmes* gallerys, Nuremberg, "Bauknecht" gallery, Munich, GERMANIA.
"Lots Road Galleries" gallery, "Bonhams" London, ENGLAND.
"XXIII Salon International du VAL D'OR" Plastica Latina, Saint Amand Montrond, FRANCE.
Medal for the best painting among foreign artists.
"XX Salon International des Arts" Buxieres-Les-Mines, FRANCE. Prize for best work.
Exhibition "Montmartre en Europe", PARIS
1999. - Participation in "SOCIETE NATIONALE DES BEAUX ARTS" Au CARROUSEL du LOUVRE, PARIS
"3 Salon Artistique, Artisanal et de la Maquette", Gueugnon, FRANCE.
Admitted to S.N.B.A. FRANCE.
By the committee Merite et Devouement Francais was awarded by Silver Cross..
20001-20003r. - Salon "Symphonie des Arts", IVeme Salon Peinture Aquarelle Sculpture Montpon-Menesterol, FRANCE.
2000-2004. - Participation in exhibitions of Ukrainian Artists in gallery "Dzimas" Athens, GREECE.
2010. - Participation in the exhibition "Road to the Temple" in gallery "KalytaArtKlub", Kiev
2010-2011. - Participation in exhibitions of Ukrainian artists in the gallery "P-12" Vienna, AUSTRIA.
2011. - Participation in ART-KIEV CONTEMPORARY, Art Arsenal Kiev
2011 - 2012. - Exhibition in Gallery "Yana", Kiev
2013р. – Exhibition of Kolesnik family in Auction house «EURO-ART»
and participation in april's auction of «EURO-ART» Kiev.
Participation in exhibition «Landscape», «Mytec» gallery Kiev.
Participation in ALL-UKRAINIAN Triennial of painting – 2013
1993,1994,2000,2001,2013 – participation in "SALON d'AUTOMNE", PARIS
Works were sold for collection Michele Demon - France,
Eugen Barthelmes - Germania, Monique Courchesne - Canada,
Elinor B.Bachrach - USA, Marc Lerges - France.



Paintings for sale

To make a picture larger, click it



Kolesnik V.V. :: Village landscape ::
2016, 75x100cm, oil on canvas


$1700


Kolesnik V.V. :: Lilas ::
2016, 50x60cm. oil on canvas


500$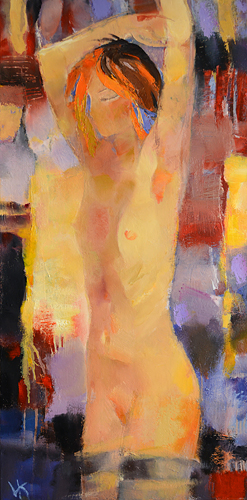 Kolesnik V.V. :: In front of the mirror ::
2017, 100x50cm, oil on canvas


2800$

Kolesnik V.V. :: Blooming garden ::
2016, 80x80cm, oil on canvas


$2200


Kolesnik V.V. :: Paris ::
2016, 80x120cm. oil on canvas


2100$

Kolesnik V.V. :: Morning ::
2016, 79.5x75cm, oil on canvas


$1800


Kolesnik V.V. :: Composition ::
2015, 60x90cm, oil on canvas


$1500

Kolesnik V.V. :: Around midnight ::
2017, 90x70cm, oil on canvas


2900$


Kolesnik V.V. :: Fleurs de novembre ::
2017, 50x35cm, oil on canvas


400$

Kolesnik V.V. :: Autumn still life ::
2017, 65х82,5cm, oil on canvas


1900$


Kolesnik V.V. :: October in Paris ::
2014, 60х80cm, oil on canvas


950$

Kolesnik V.V. :: The Lights of Paris ::
2016, 60х80cm, oil on canvas


950$


Kolesnik V.V. :: Silence ::
2017, 60х130cm, oil on canvas


1550$

Kolesnik V.V. :: Still life with a parrot ::
2017, 80х80cm, oil on canvas


1700$


Kolesnik V.V. :: Winter in the city ::
2015, 63x78.5cm. oil on canvas


2000$



Exhibition

To make a picture larger, click it

Kolesnik V.V. :: Around midnight ::
90x80cm. oil on canvas. 2015

Kolesnik V.V. :: Still life with irises ::
58х53cm. oil on canvas. 2016

Kolesnik V.V. :: Poppy ::
70x60cm oil on canvas, 2009

Kolesnik V.V. :: Still life with Turkish melon ::
70x70cm oil on canvas, 2013

Kolesnik V.V. :: Still-life with grape ::
50x60cm oil on canvas, 2010

Kolesnik V.V. :: Still-life with moon ::
90x70cm oil on canvas, 1999

Kolesnik V.V. :: Still-life with poppy ::
60x80cm oil on canvas, 1997

Kolesnik V.V. :: Still-life with sunflowers ::
60х50cm oil on canvas, 2002

Kolesnik V.V. :: Landscape with the road ::
100x130cm oil on canvas. 2013

Kolesnik V.V. :: In front of the mirror ::
120x80cm oil on canvas. 2013

Kolesnik V.V. :: Continuation of the melody,The left side ::
2017, 100х120cm, oil on canvas

Kolesnik V.V. :: Continuation of the melody,The ridht side ::
2017, 100х120cm, oil on canvas

Kolesnik V.V. :: In love with the sun ::
2017, 120x98cm, oil on canvas

Kolesnik V.V. :: Morning bouquet ::
2015, 90x130cm, oil on canvas

Kolesnik V.V. :: Fleurs des champs ::
2014, 95х100cm. oil on canvas

Kolesnik V.V. :: Woman and the sea ::
2016, 85x100cm, oil on canvas

Kolesnik V.V. :: Lilies of the Valley ::
2017, 48x38cm, oil on canvas

Kolesnik V.V. :: Red ceramics ::
2016, 70x100cm. oil on canvas